The Cookie Time Cookie Bar® celebrates the fun and indulgent nature of cookies in a colourful and vibrant retail environment. Created to bring New Zealand's favourite Cookie Time® brand to life!
Delicious fresh HOT COOKIES and cookie-inspired creations are what the Cookie Bar is all about. Giant Freak shakes, cookies and cream ice cream, flavoured hot chocolates & s'mores! YUMMM – you get the idea – This celebration of everything cookie goes even further with Cookie Muncher soft toys, tins, gift boxes and even singlets.
The Cookie Bar is the hottest place to be for anything COOKIE – pop on in to experience for yourself.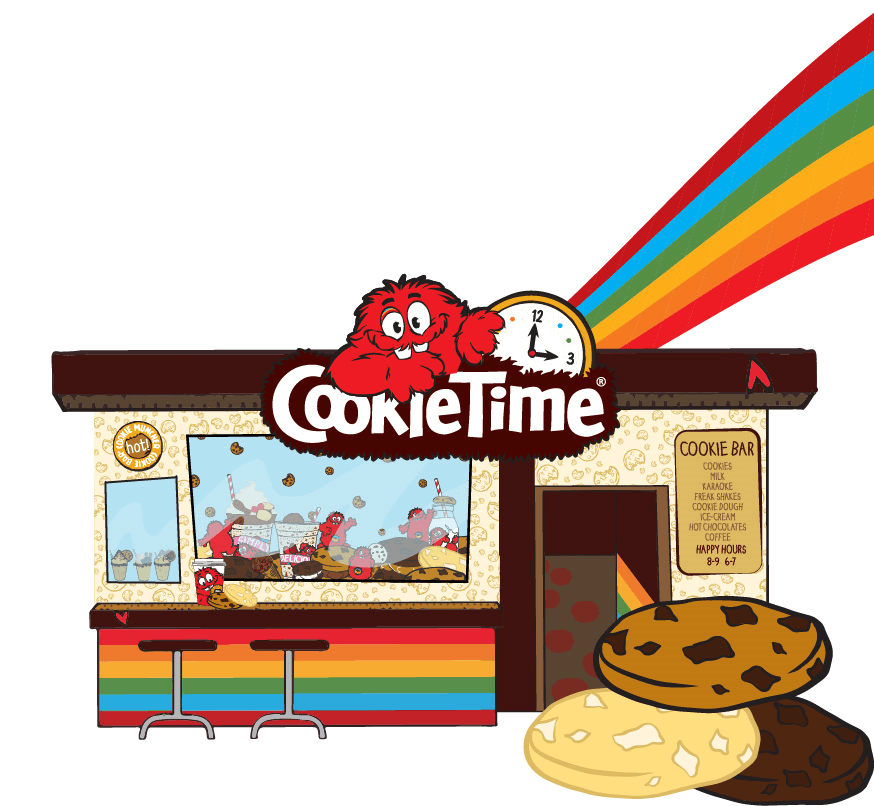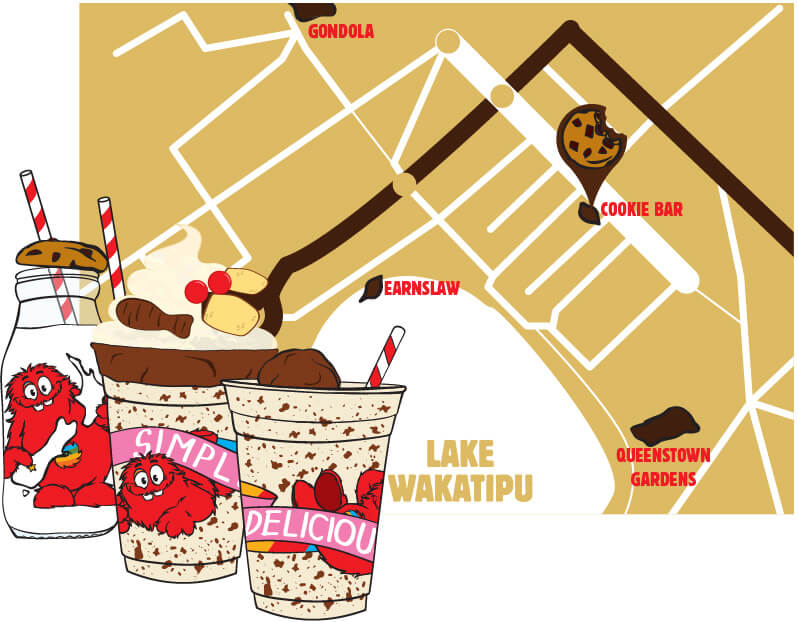 Cookie Muncher Cookie Bar
18 Camp Street,
Queenstown
Shop Hours
Monday – Friday
8:00am – 9:00 pm
Saturday – Sunday
10:00am – 9:00 pm
Get in touch
Enquires: 03 442 4891
info@cookiebar.co.nz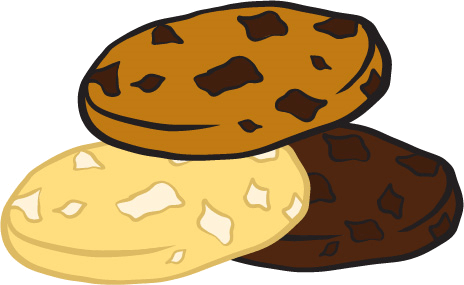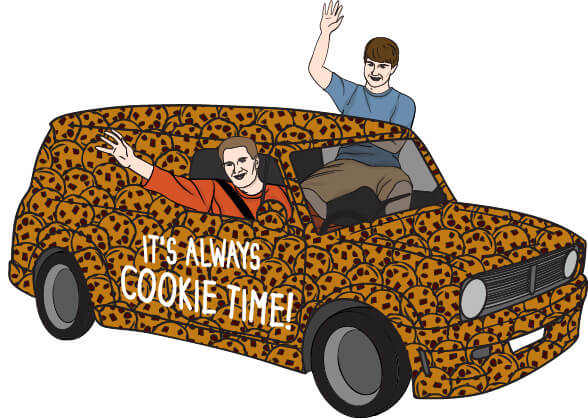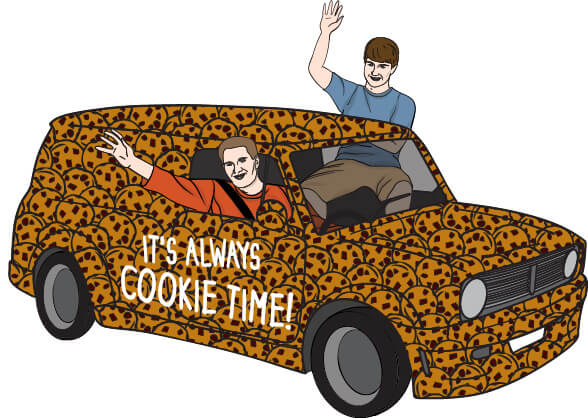 Back in 1983, 70 Jars of Original Chocolate Chunk Cookies were delivered to dairies around Christchurch on the 7th of February! Kiwis quickly fell in love with the giant taste of happiness and to this day the love affair has continued to grow, Cookie Time remains family owned and Christchurch based.
In the beginning the cookies were produced with classic Kiwi ingenuity; Chocolate was cut up on a converted bacon slicer to get big chunks, cookie dough was measured with ice cream scoops, and paint scrapers were used to get the cookies off trays. Technology may have changed but Cookie Time remains committed to producing quality product with real ingredients, such as butter, eggs and real chocolate – just like you would use for baking at home!
Cookie Time is passionate about experiences that engage and inspire creating a rich heritage of storytelling. From legendary 'all you can eat' factory tours in the 80's where people would que around the block! For 12 years, from 1996 to 2008 Cookie Time held the Guinness World Record for the world's largest cookie by baking a 487m² cookie in a field behind the factory. Mini Clubmans also feature throughout the Cookie Time story being the vehicle used for the very first cookie deliveries. Today, the distinctive Mini vans are used as photo booths in the Cookie Bars.
The First Cookie Muncher Cookie Bar was opened in May 2010 located in the heart of Queenstown, New Zealand. Three years later the first international Cookie Bar opened in Harajuku, Tokyo, Japan in December 2013.
Cookie Time Charitable Trust, CTCT was established in 2003 to help New Zealand children discover their gifts. Since then, more than $2 million has been raised to support initiatives across three target areas: innovation in learning, thinking differently and physical pursuits. Highlights include funding the establishment and ongoing work of Dyslexia Foundation of New Zealand, now the country's foremost lobby group for dyslexia and neurodisabilities.